Today's markets, tomorrow's technology - The Trading Show Chicago 2022
On September 28 & 29, 2022, Prof. Petter Kolm, AI & Trading Scientific Advisor, and Lukas Sieber, Head of Marketing, were invited to attend The Trading Show in Chicago. The event brings together professionals from a variety of areas in the financial industry including high-performance computing, traditional and alternative data, machine learning, blockchain, and cryptocurrency.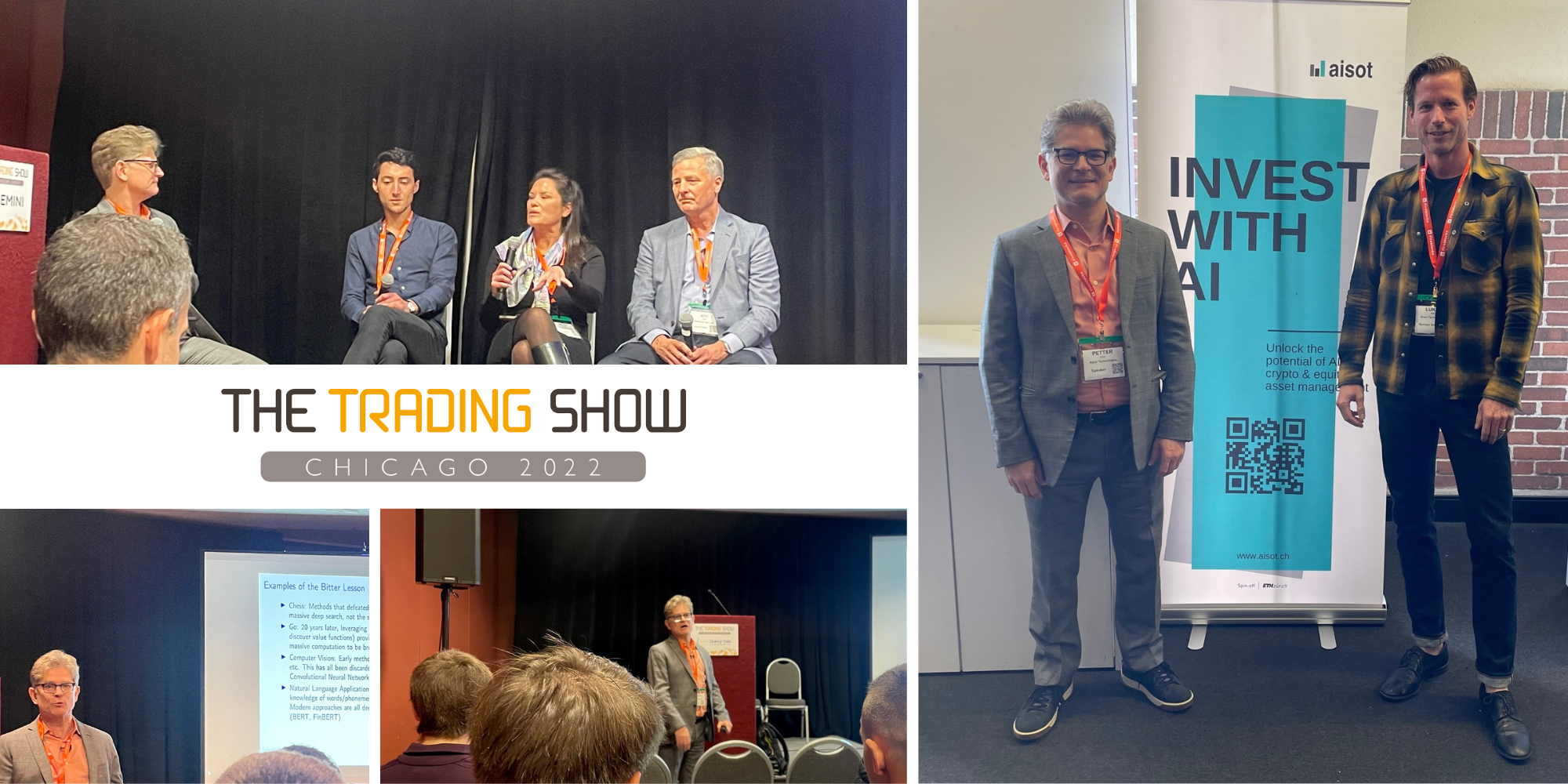 During the conference, Petter Kolm presented one of his most recent papers on "Deep Order Flow Imbalance: Extracting Alpha at Multiple Horizons from the Limit Order Book" in a roundtable discussion. The paper discusses how to use deep learning in forecasting high-frequency equity returns at multiple horizons using order book information at the most granular level. Professor Kolm, a veteran academic and quant, is leading several research efforts in quantitative finance and financial data science at NYU's Courant Institute of Mathematical Sciences. Petter Kolm and Nino Antulov-Fantulin, Head of Research at aisot, have previously published research on the impact of publicly available news on financial markets, and other topics.
In Chicago, Kolm also moderated a panel on "Quants in crypto: Market entry and risk" with Jeff Ludgate from Avelacom, Betty Sharples from Copper Technologies, and Abraham Chaibi from Dexterity Capital. Among a variety of topics, the panel discussed current crypto market regulations and how crypto investing is undergoing a transformation from being purely speculative to a more investing-oriented market. One of the recent findings Kolm presented during the discussion is how the most liquid cryptocurrencies exhibit three economic regimes: (1) a neutral regime with moderate volatility, (2) an upward-trending regime with moderate volatility, and (3) a downward-trending regime with high volatility (about twice the size of the volatility of the first two regimes).